Enjoy the music while checking out the rental terms and specifications
Ruth Mary Tibbetts Compound Apartment Rental Terms, Specifications and Restrictions
---
First Floor Unfurnished Apartment for Rent
---

Asin Apartment Entrance
Why not E-mail Your Proposal today!
Asin Apartment Specifications

This first floor, fully tiled, snug and cozy unfurnished apartment is located within the Ruth Mary Tibbetts Compound right along Asin Road. We experience a secure, peaceful, quiet and enjoyable life here. Local transportation is inexpensive, handy, and plentiful. Asin Road is cemented and our location is within 100 yards of the terminus of the San Luis/San Roque Jeepney Route (Baguio terminal along Chanum Street beside Empire Theatre). If you're coming from town and want to avoid the short walk at this end, you can ride the Asin Kilometer Six Jeep (get it along Kayang Street - up the hill and to the left from Empire Theatre) that will stop on demand right at our gate.

Unfurnished 2-Bedroom, 1 Bathroom, Tiled Kitchen, Intimate Dining Room, Living/Den/Family Room suitable for One or Two Singles or a newly married couple. This is a non-smoking apartment.

This cozy apartment was designed for western style living and is fully wired for 110-115V electricity with 220V outlets available in kitchen and dining room with wall outlets extending through to the living room. Electricity is via an installed BENECO meter and is at renter's expense without any initial fees.

All windows have security grills with screens. Both entrances also have aluminum screen doors installed. Security lights are installed and supplement owner provided security lights both front and rear. Motion-detecting security lights are installed at rear entry.

The apartment has cold water faucets installed in the kitchen and bathroom sink/shower. An electric inline water heater is installed for use in the shower. Water supply is at renter's expense and via a water meter of Baguio Water District who pump to us twice a week. Water is stored in an uphill dedicated 10-barrel capacity tank and supplied to the apartment by gravity. Conservative use of water is highly recommended during the dry season. We cannot vouch for the safety of city water and recommend that you purchase bottled water or boil all water used for drinking. Drinking water can be ordered for delivery at P30.00 per 5-gallon container.

A connection exists for landline telephone and the renter can arrange with the telephone company to have a phone installed.

Commercial Cable Television is locally available and may be installed at renters expense.

Broadband Internet is available at renters expense.

The apartment is intended for renters without a vehicle and who rely on public transportation. Except for prearranged special events, renter's visitors and guests may not park in the compound nor on the street adjacent to owner's property.

Garbage is collected by the city (currently without charge) each Tuesday morning. Renter may place securely tied garbage bags or suitable closed garbage containers in the compound holding area awaiting garbage day.

A roofed and sheltered laundry and clothes drying area with a sink and cold-water connection is available at the outside rear of the apartment. The laundry area has both 110V/220V electricity outlets with space for renter furnished washer and dryer. An outdoor storage area is also available beneath the kitchen for cooking gas containers and bulk-item storage secured with renter provided locks.



2 Bedrooms - Master & Guest Bedrooms, both with Double Wardrobe Closets

The restful and quiet Master Bedroom has a large double-door closet with ample bulk storage above and drawer storage below the well-ventilated and lighted wardrobe. The room has two windows, one with a view of the rear of the apartment.

The Guest Bedroom entry is near the Living/Den/Family Room and beside the counter with (sliding glass-doors) upper cabinet that serves as a divider separating the guest bedroom from the passageway between Living/Family and Dining Rooms. This unique and multi-purpose counter compliments both passageway and bedroom. But the Guest Bedroom has also a large double-door closet with upper bulk storage and the large lighted wardrobe includes a shoe rack. An inner room with no outside windows and one rock wall, the room could be easily used as an office or computer location if an extra bedroom is not needed.



Tiled Kitchen - Tiled Sink & Tiled Floor, Many Cabinets

You'll enjoy using the kitchen sink with a scenic view of Asin activities as you work. The installed range hood with exhaust fan and stove light compliments your gas or electric range complete with oven and rotisserie. Secure outside gas container storage is provided. Cooking gas prices are fluctuating upward and currently costs P680.00 plus per 12.0 Kilo container at Ymana Store, just across Asin Road from the compound. Overhead kitchen cabinets galore all around the kitchen. Additional utensil and silverware storage in the undersink cabinet. This compact and cozy kitchen is a homemaker's dream!



Bathroom with American-Size Stool, Sink & Shower with installed inline water heater, Cabinets

The bathroom entry is equi-distance between the two bedrooms, just off the dining room. What the bathroom lacks in spaciousness it makes up for in compact utility. A fully tiled shower stall with door. A large cabinet with sink built-in has ample tiled below counter storage with a separate wall cabinet. The wall cabinet/mirror over the sink conceals an access door to the plumbing and electrical services. You'll love this easy to clean bathroom.



Intimate Dining Room with Window View - Many Cabinets

The Intimate Dining Room is the hub of the apartment and contains an ideal dining location being near the kitchen and hosts a fine window to sit near while dining. Many upper wall cabinets grace the dining room.



Living - Den - Family Room with Picture Window Scenic View & Rock Wall - Cabinets & Shelves for books or audio/video equipment.

A Great Picture Window Natural Rock Wall, and roomy shelves for books or audio/video use highlights the Living/Family Room. Besides cabinets above and below the shelves, Sliding wooden doors atop the rock wall open to reveal a vast storage area spanning the Living/Family Room and the Guest Bedroom.




Main Entrance Reception Area

Upon entering the main entrance a large cabinet on the right allows garment and footwear storage, plus handy shelves for numerous items. A doorway leading to an inner stairway to the owner's house is locked and barred from within the apartment to insure renter privacy and security.



---
Asin Apartment Rental Terms
The terms of rental are P7,800 (Philippine currency) in advance monthly. A P2,000 Cleaning Deposit is payable along with the first month's advance rental. Cleaning Deposit is refundable upon termination of rental providing the apartment is clean and any owner-furnished appliances/furniture/furnishings used by the renter are returned in good order. The owner requires a 30-day notice in advance of termination.

The terms of rental are as an unfurnished apartment. We have furnishings already in place that we will gladly provide as is and without charge as long as the items are returned to us in similar condition upon termination of rental. If not desired, the furnishings will be removed.



Asin Apartment Restrictions
Access Doors. Two access doors to crawl spaces and house service points are within the apartment and may require periodic accessibility. One is in the bathroom (as previously noted) and the other is within the Guest Bedroom via the large storage area atop the rock wall. Unless under emergency conditions, the owner will provide 24-hour advance notice of intention to use the access doors.
---
Interested?
Give us a call at 442-5925 and Come on over and have a look!
Please send email to: Bob Tibbetts
---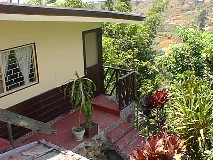 Shrubs, Flowers, and Scenic Views await you at the rear exit
---
---
This page last updated on June 30, 2010.