| | |
| --- | --- |
| Asin Road View | Asin Road Barangay |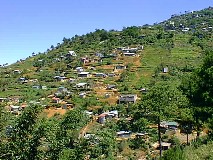 Asin Road View
Living on Asin Road is a daily pleasure our family has enjoyed for twenty-three years. It's a beautiful place both in natural setting and human resources. Sunny mountain hillsides dotted with majestic pines, those remaining from the once heavily forested slopes. Occasional lovely views of the South China Sea and Lingayen Gulf some twenty odd miles distance down the long scenic valley. The clear, cool, fresh mountain air with just a whiff of sweet flower blossums assure a pleasant and healthful existence here.
The Asin Road Barangay people are a conglomeration of pure and mixed-blood Cordillera Mountain tribes, immigrants from adjoining or nearby lowland provinces, and a sprinkling of foreigners - those being anyone else. This diverse grouping live together in peaceful harmony, tolerating and reinforcing individual and cultural differences.
The Early Days
We moved to Asin Road in early 1978, constructing 'Tibbetts House' on a roadside lot with a wonderfully wide view of the valley stretching from Mirador Hill to Lingayen Gulf and beyond. The opposite hillside; a bit of San Carlos Heights and Quezon Hill; and a V-shaped glimpse of the La Union seashore at Aringay are a glance away through our windows. On clear days our seaward view extends to Hundred Islands and Bolinao, Pangasinan, and across the peninsula into the South China Sea.
In those early days the whole of Asin Road was only lightly populated. Almost everywhere you looked (the opposite hillside, San Carlos Heights, and Quezon Hill) were thick groves of pine trees. Except for three houses across the valley toward the cemetary, and some wood carving shops at Kilometer 4, no other structures could be seen from our lot because there were no other existing buildings. Except for those mentioned, all of the houses and structures now visible to us were built after 1989. Along with the proliferation of houses came the gradual disappearance of the Pine groves. The remaining pines are more numerous on the opposite hillside below the cemetary.
Asin Road itself, in those days, was smooth only a short time each summer following the annual pot-hole filling and resurfacing by Baguio City Engineer's Office work crews. The first storm of each year usually washed away the road surface and pot holes soon formed again to swollow the unwary motorists. A bad storm in the late 80's destroyed Asin Road completely at Kilometer 2, causing some deaths and resulting in a 6-month closure and detour via Puyat Farm and Marcos Highway until repairs were gratefully made. The 1994-95 cementing of the road was an improvement welcomed by all Asin Road residents.
Friendly Neighbors - Farsighted Officials
We on Asin Road are blessed with friendly neighbors, always willing to lend a helping hand, a bright smile, and cheerful greeting. Our own Barangay Captain Reynaldo Lopez Nauyac and the barangay officials are honest, open, and have worked hard to improve common facilities and to make life more pleasant for everyone.
Reynaldo Lopez Nauyac was a community leader and visionary long before he became an elected official. He constantly sought out means to improve the welfare of the Ifugao Wood Carving community. He assiduously promoted Ifugao cultural heritage by organizing local groups that participated in local, regional, and national cultural events. He continues this cultural promotion to the present.
As Barangay Captain, Nauyac's leadership resulted in creation of the school, the church, a cultural/community/trade center, an ongoing housing project, and development of a natural land depression into a cultural ampitheater of olympic proportions. In a conversation with him some time ago, Captain Nauyac expressed interest in modern, clean, profitable garbage disposal; reforestation not only to replace the pines but to provide continual wood for carving; helping his home province of Ifugao in reforestation; providing basic religious instruction to the community's children. Knowing Captain Nauyac, these projects and many, many more are well on the way to being realized in our community.
Entering and departing our community we pass through San Luis Village where San Luis Barangay Captain Arizala sets a continual positive example to all of us through her hard work and leadership practices. Captain Arizala has transformed her Barangay into an award-winning model of what can be done with good leadership and proper use of Barangay funds.
All About Asin Road - And More
We've gathered from barangay sources, a selection of information about Baguio City and Asin Road Barangay that you can view using the links below. We love it here and feel sure you will enjoy even a brief stop with us through these pages. ENJOY!
We Love Asin Road
---

If you have comments or suggestions, email us at
Tibbetts House
Baguio City 2600, Philippines
Last updated Sunday, November 4, 2001 at 15:25:17 PM
TO TOP
---